Amino acid supplementation and impact on immune function in the context of exercise
Journal of the International Society of Sports Nutrition
2014
11:61
Received: 2 August 2014
Accepted: 4 December 2014
Published: 14 December 2014
Abstract
Moderate and chronic bouts of exercise may lead to positive metabolic, molecular, and morphological adaptations, improving health. Although exercise training stimulates the production of reactive oxygen species (ROS), their overall intracellular concentration may not reach damaging levels due to enhancement of antioxidant responses. However, inadequate exercise training (i.e., single bout of high-intensity or excessive exercise) may result in oxidative stress, muscle fatigue and muscle injury. Moreover, during the recovery period, impaired immunity has been reported, for example; excessive-inflammation and compensatory immunosuppression. Nutritional supplements, sometimes referred to as immuno-nutrients, may be required to reduce immunosuppression and excessive inflammation. Herein, we discuss the action and the possible targets of key immuno-nutrients such as L-glutamine, L-arginine, branched chain amino acids (BCAA) and whey protein.
Keywords
ImmunonutritionL-glutamineL-arginineL-leucineOxidative stress
Introduction
Elite athletes competing in national and international events are required to engage in multiple strenuous exercise training sessions to improve their performance. Although regular practice and moderate intensity exercise, for the general population, is essential to reduce the risk of chronic inflammatory diseases, athletes engaged in intense, prolonged or exhaustive physical exercise are more susceptible to the adverse effects from high-intensity exercise. Such effects include high rates of protein catabolism, a pro-inflammatory profile, accompanied by muscle damage, soreness, chronic oxidative stress [1] and immune suppression [2],[3]. A large number of studies have reported the harmful side effects (overtraining syndrome) and increased upper respiratory tract infection (URTI) promoted by exhaustive physical exercise [2],[4],[5].
Although a balanced diet with high quality and sufficient quantity of nutrients is essential, there is growing evidence that some non-synthetic supplements can assist optimal nutrition. In fact, the use of nutritional supplements especially the provision of amino acids, has grown year-on-year [
6
]. There are few articles in the literature to address the topic of nutritional supplementation and immune consequences, from a metabolic and molecular standpoint. The use of proteins and amino acids for supplementation deserves special attention, since these molecules are critical for anti-oxidant and fuel provision, participating in the whole-body energy homeostasis, growth, development, recovery and immune responses. The key targets for immunonutrition may include provision of key metabolites for immune cells
per se
, the inflammatory response and cytokine release, the production of chaperone proteins such as the heat shock proteins (HSPs), redox balance (including glutathione, GSH metabolism), and protection of skeletal muscle mass (Figure
1
).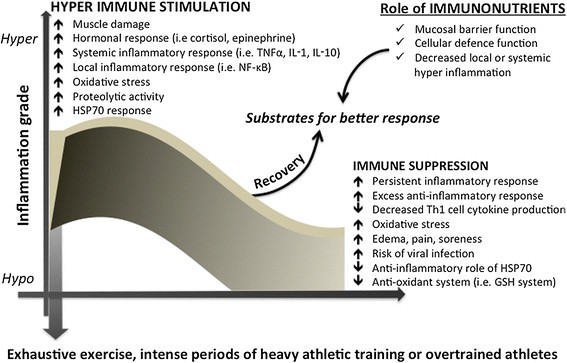 Conclusion
Immunonutrition for clinical applications to sports activities represents an emerging area for health, especially regarding supply of proteins and amino acids, since they are required for the optimal synthesis and concentration of a variety of immune related proteins (including cytokines and antibodies). Amino acids will feed into and impact on the regulation of key metabolic pathways in immune cells and the cellular oxidative stress response. At the anti-inflammatory molecular level, new findings have been reported such as enhancement of HSP levels, NO synthesis, and GSH/GSSG regulation, all essential for optimal immune function and recovery from intense periods of training.
Declarations
Acknowledgments
The authors thank the School of Biomedical Sciences, Curtin University, Perth, Western Australia for provision of excellent research facilities and the Brazilian National Council for Scientific and Technological Development (CNPq - Science Without Borders Programme, process 245562/2012-5).
Authors' Affiliations
(1)
CHIRI Biosciences Research Precinct, Faculty of Health Sciences, School of Biomedical Sciences, Curtin University, Perth, Australia
(2)
Laboratory of Cellular Physiology, Department of Physiology, Institute of Basic Health Sciences, Federal University of Rio Grande do Sul, Porto Alegre, Brazil
Copyright
© Cruzat et al.; licensee BioMed Central Ltd. 2014
This article is published under license to BioMed Central Ltd. This is an Open Access article distributed under the terms of the Creative Commons Attribution License (http://creativecommons.org/licenses/by/4.0), which permits unrestricted use, distribution, and reproduction in any medium, provided the original work is properly credited. The Creative Commons Public Domain Dedication waiver (http://creativecommons.org/publicdomain/zero/1.0/) applies to the data made available in this article, unless otherwise stated.