Practical nutritional recovery strategies for elite soccer players when limited time separates repeated matches
Journal of the International Society of Sports Nutrition
2017
14:35
Received: 21 February 2017
Accepted: 5 September 2017
Published: 12 September 2017
Abstract
Specific guidelines that aim to facilitate the recovery of soccer players from the demands of training and a congested fixture schedule are lacking; especially in relation to evidence-based nutritional recommendations. The importance of repeated high level performance and injury avoidance while addressing the challenges of fixture scheduling, travel to away venues, and training commitments requires a strategic and practically feasible method of implementing specific nutritional strategies. Here we present evidence-based guidelines regarding nutritional recovery strategies within the context of soccer. An emphasis is placed on providing practically applicable guidelines for facilitation of recovery when multiple matches are played within a short period of time (i.e. 48 h). Following match-play, the restoration of liver and muscle glycogen stores (via consumption of ~1.2 g⋅kg−1⋅h−1 of carbohydrate) and augmentation of protein synthesis (via ~40 g of protein) should be prioritised in the first 20 min of recovery. Daily intakes of 6–10 g⋅kg−1 body mass of carbohydrate are recommended when limited time separates repeated matches while daily protein intakes of >1.5 g⋅kg−1 body mass should be targeted; possibly in the form of multiple smaller feedings (e.g., 6 × 20–40 g). At least 150% of the body mass lost during exercise should be consumed within 1 h and electrolytes added such that fluid losses are ameliorated. Strategic use of protein, leucine, creatine, polyphenols and omega-3 supplements could also offer practical means of enhancing post-match recovery.
Keywords
SoccerNutritionRecoveryPolyphenolsOmega-3CreatineFixtureCongestion
Background
Over the course of a 45 week season, professional European soccer teams may play in excess of 60 competitive matches [
1
,
2
] and thus at specific times of the year, multiple matches will be played within a single week [
1
]. Notwithstanding the additional match demands of the pre-season period, it is common for players to compete in 2–3 matches within an 8 day period (see Fig.
1
for a typical weekly schedule for an English Premier League team) on multiple occasions throughout the season. It should be noted that the notion of limited recovery between soccer matches is not unique to the English Premier League as fixture congestion is also common among U.S. University teams as well as youth teams who play multiple games in a weekend. Up to 120 h are required to restore disturbances in metabolic and physical performance indices that result from soccer match-play [
3
]. Injury risk has been observed to increase when less than 96 h separates games [
1
,
2
] and the reduced recovery time between matches played in FIFA World Cup competitions is perceived to be a primary cause of injury in professional soccer players [
4
]. Therefore, the ability to facilitate post-match recovery is desirable.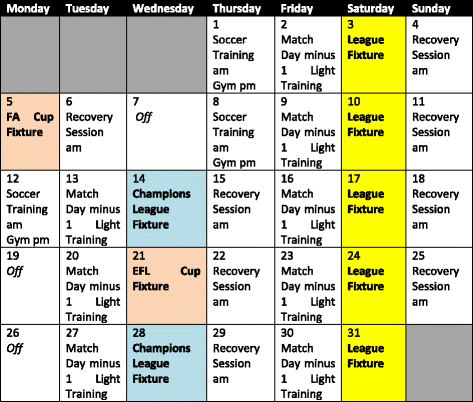 Accumulated fatigue can arise from a repetition of matches and training performed within a short period of time (e.g., daily training with matches separated by ~48 h; 5). The demands of a congested fixture schedule means that recovery duration may sometimes be less than optimal when seeking to maintain physical performance and a low injury rate. Indeed, a reported 6.2-fold higher injury rate occurred in players who played two matches a week compared to one and the majority of these injuries (i.e., 76%) were reported to be caused by overuse [5]. As muscle injuries constitute almost one third of the time lost in men's professional soccer [6], it appears that amassed fatigue during a congested fixture period may contribute to both underperformance and/or elevated injury risk [3]; particularly in the final 15 min of a match [7]. Notably, when three games are played within a week, repeated sprint performance is compromised (more so after the second game) and muscle soreness is increased, knee range of motion is impaired, and muscle damage, oxidative stress, and inflammatory markers are perturbed [8]. While it must be acknowledged that the extent of exposure to periods of match congestion in professional soccer players may be limited [9], when such periods do occur, performance is likely compromised and injury risk may be elevated [7].
A number of interventions have been proposed to facilitate post-exercise recovery, including, but not limited to: cold water immersion, active recovery, compression garments, massage and electrical stimulation [10]; many of which are routinely used by professional soccer teams. However, nutritional strategies are amongst the most popular and accessible methods of facilitating restoration of performance and physiological perturbations following soccer-specific exercise. Despite the popularity of soccer, surprisingly few guidelines exist that seek to address the practical application of nutrition for recovery from soccer when limited time (e.g., ~48 h) separates matches. The importance of optimised recovery strategies is particularly prevalent when congested fixture periods exist and implementation of them may be complicated by logistical issues such as late fixture times and demanding travel schedules. Therefore, the purpose of this review was to evaluate current knowledge regarding nutritional recovery strategies within the context of soccer. Our emphasis is on providing contextually relevant recommendations for facilitation of post-exercise recovery when multiple matches are played within a short period of time. We present practical strategies relating to the composition, quantity and timing of nutritional intake for the elite soccer player wishing to improve their recovery via evidence-based dietary strategies. Practical issues concerning the implementation of such strategies within the elite environment are also considered.
Method
Articles were retrieved in accordance with an extensive search in several databases including MEDLINE (1966–2016); SPORTDiscus (1966–2016); PubMed (1966–2016) and Google Scholar (1980–2015). The following search terms were used in various combinations: "recovery," "nutrition," "diet," "food," "soccer," "football," "supplements," "ergogenic aids," "glycogen re-synthesis," "refuelling," "repair," "adaptation." Only studies that were conducted using human participants were selected and references cited in the retrieved articles were also considered for inclusion.
Conclusion
The growing match play and training demands of a professional soccer player are putting a greater emphasis on the role of nutritional recovery in regaining performance and reducing the risk of injury. Certain dietary practices should commence immediately after a competitive game or high intensity training session before the opportunity to fully optimise the recuperation process diminishes. Carbohydrate replenishment should take precedence to replace the fuel lost to perform high intensity work with protein consumption playing an important role in muscle repair and rehydration aiding the overall recovery process. Daily strategies incorporating these key nutrients should become common practice on subsequent recovery days between fixtures, especially during congestive weeks. Antioxidants and other nutrients can have a modulating role of the inflammatory process during these busy periods but their use needs be strategic rather than chronic to ensure adaptations to training are not blunted. Current practical issues are ever present in an elite environment and need to be counteracted to achieve success in nutritional approach.
Declarations
Acknowledgements
Not applicable.
Funding
No funding sources were received for the preparation of this manuscript.
Availability of data and materials
Not applicable
Authors' contributions
JTD came up with the idea for the manuscript. MKR and JTD wrote the article. MR edited the article and provided valuable comments to enhance the review. All authors read and approved the final manuscript.
Ethics approval and consent to participate
Not applicable.
Consent for publication
Not applicable.
Competing interests
The authors declare that they have no competing interests.
Publisher's Note
Springer Nature remains neutral with regard to jurisdictional claims in published maps and institutional affiliations.
Open AccessThis article is distributed under the terms of the Creative Commons Attribution 4.0 International License (http://creativecommons.org/licenses/by/4.0/), which permits unrestricted use, distribution, and reproduction in any medium, provided you give appropriate credit to the original author(s) and the source, provide a link to the Creative Commons license, and indicate if changes were made. The Creative Commons Public Domain Dedication waiver (http://creativecommons.org/publicdomain/zero/1.0/) applies to the data made available in this article, unless otherwise stated.
Authors' Affiliations
(1)
Sheffield Hallam University, Academy of Sport & Physical Activity, Sheffield, UK
(2)
Stoke City Football Club, bet365 Stadium, Stanley Matthews Way, Stoke-on-Trent, UK
(3)
School of Social and Health Sciences, Leeds Trinity University, Leeds, UK