Exercise-induced stress behavior, gut-microbiota-brain axis and diet: a systematic review for athletes
Journal of the International Society of Sports Nutrition
2016
13:43
Received: 15 March 2016
Accepted: 19 November 2016
Published: 24 November 2016
Abstract
Fatigue, mood disturbances, under performance and gastrointestinal distress are common among athletes during training and competition. The psychosocial and physical demands during intense exercise can initiate a stress response activating the sympathetic-adrenomedullary and hypothalamus-pituitary-adrenal (HPA) axes, resulting in the release of stress and catabolic hormones, inflammatory cytokines and microbial molecules. The gut is home to trillions of microorganisms that have fundamental roles in many aspects of human biology, including metabolism, endocrine, neuronal and immune function. The gut microbiome and its influence on host behavior, intestinal barrier and immune function are believed to be a critical aspect of the brain-gut axis. Recent evidence in murine models shows that there is a high correlation between physical and emotional stress during exercise and changes in gastrointestinal microbiota composition. For instance, induced exercise-stress decreased cecal levels of Turicibacter spp and increased Ruminococcus gnavus, which have well defined roles in intestinal mucus degradation and immune function.
Diet is known to dramatically modulate the composition of the gut microbiota. Due to the considerable complexity of stress responses in elite athletes (from leaky gut to increased catabolism and depression), defining standard diet regimes is difficult. However, some preliminary experimental data obtained from studies using probiotics and prebiotics studies show some interesting results, indicating that the microbiota acts like an endocrine organ (e.g. secreting serotonin, dopamine or other neurotransmitters) and may control the HPA axis in athletes. What is troubling is that dietary recommendations for elite athletes are primarily based on a low consumption of plant polysaccharides, which is associated with reduced microbiota diversity and functionality (e.g. less synthesis of byproducts such as short chain fatty acids and neurotransmitters). As more elite athletes suffer from psychological and gastrointestinal conditions that can be linked to the gut, targeting the microbiota therapeutically may need to be incorporated in athletes' diets that take into consideration dietary fiber as well as microbial taxa not currently present in athlete's gut.
Keywords
AthleteBehaviourDietExerciseMicrobiotaNeurotransmittersStress
Background
Stress is an essential adaptation necessary for homeostasis, performance and survival [1]. The stress response occurs whenever an individual is faced with an endogenous or exogenous challenge perceived as unpleasant, adverse or threatening. It can be induced by physical, physiological or psychological stimuli [1]. Intense exercise implies adaptive processes involving affective, physiological, biochemical, and cognitive-behavioral response in an attempt to regain homeostasis (reviewed by Morgan et al [2]). Therefore, it is difficult to differentiate between the effects of the physical stress of exercise and the effects of the psychological stress during exercise [3]. Therefore, both the physical and psychological demands during intense exercise are referred to here as "stress". According to the review of Purvis et al [4], an estimated 20-60% of athletes suffer from the stress caused by excessive exercise and inadequate recovery. The prevalence of stress is believed to be higher in endurance sports such as swimming, rowing, cycling, triathlon and to some extent long-distance running where athletes are training 4–6 hours a day, 6 days a week, for several weeks without taking time off from intense training [5]. Although there is no consensus as to which symptoms or biomarkers define stress, some common signs that are widely accepted in the scientific literature include clinical, hormonal indicators and other symptoms associated with fatigue, performance decline, insomnia, change in appetite, weight loss and mood disturbances such as irritability, anxiousness, loss of motivation, poor concentration and depression, as well as inflammation and immunosuppression (reviewed by Purvis et al [4]).
Two main distinct but interrelated systems that affect the stress response during exercise are: the sympatho-adrenomedullary (SAM) and hypothalamus-pituitary-adrenal (HPA) axes. The activation of these axes results in the release of catecholamines (norepinephrine (NE) and epinephrine) and glucocorticoids into circulatory system (reviewed by Ulrich-Lai et al [
6
] (Fig.
1
). Stress during exercise also activates the autonomic nervous system (ANS) [
7
], which provides the most immediate response to stressor stimulus through its sympathetic and parasympathetic arms, and increases the neuronal release of NE and other neurotransmitters in peripheral tissues such as the gastrointestinal (GI) tract or cardiovascular system (extensively reviewed by Ulrich-Lai et al [
6
]). The bidirectional communication between the ANS and the enteric nervous system (ENS) in the GI tract, the gut-brain axis, mainly occurs by way of the vagus nerve, which runs from the brain stem through the digestive tract and regulates almost every aspect of the passage of digested material through the intestines (reviewed by Eisenstein [
8
]). Other ways of communications between the gut-brain axis are: (i) gut hormones [
9
] (i.e. gamma aminobutyric acid (GABA), neuropeptide Y, dopamine) and (ii) gut microbiota molecules [
10
,
11
] (i.e. short chain fatty acids (SCFA), tryptophan).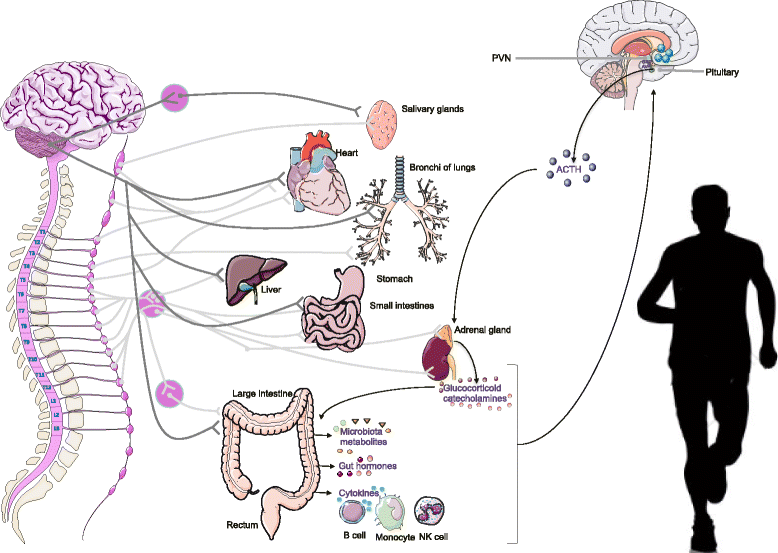 The human gut harbors more than 100 trillion microorganisms in the GI tract, which represents roughly 9 million genes [12]. Overall, the gut microbiota comprises five phyla and approximately 160 species in the large intestine [13]. The gut microbiota promotes digestion and food absorption for host energy production [14–16] and provide folate [17], vitamin K2 [18] and SCFAs [19]. In the human large intestine, complex carbohydrates are digested and subsequently fermented by the anaerobic intestinal microbiota into SCFAs such as N-butyrate, acetate, and propionate (eloquently reviewed by Flint et al [19]). The gut microbiota also neutralizes drugs and carcinogens, modulates intestinal motility, protects the host from pathogens, stimulates and matures the immune system and epithelial cells (reviewed by Nicholson et al [20]). Evidence shows that the gut microbiota also modulates excitatory and inhibitory neurotransmitters (i.e. serotonin, GABA and dopamine) and neurotransmitter-like substances, especially in response to physical and emotional stress (reviewed by Clarke et al. [21] and Moloney et al [22]). A systematic review on endurance exercise and gut microbiota [23] suggested that gut microbiota might have a key role in controlling the oxidative stress and inflammatory responses as well as improving metabolism and energy expenditure during intense exercise. However, beyond those functions, we noted that the relationship between exercise-induced stress and gut microbiota composition, as well as the possible pathophysiological mechanisms involved has not yet been explored.
New research has shown that diet can greatly influence the gut microbiota composition, which can greatly impact host's health (see review by Fasano [24]). Dietary changes can account for up to 57% of gut microbiota changes, whereas genes account for no more than 12% [25]. Short term consumption of a mostly animal or mostly plant diet can dramatically alter the microbiota composition and function [26], as fast as 24 hours [27]. The general guidelines of American Dietetic Association (ADA) [28] for meals and snacks in athletes recommend high amounts of simple carbohydrates intake (6 to 10 g/kg per day) to maintain blood glucose and maximize glycogen stores, high to moderate amounts of animal protein intake (1.2 to 1.7 g/kg per day) to satisfy the muscle accretion needs, low amounts of fat intake (20-35% of the dietary energy) and low amounts of fiber intake to facilitate gastric emptying and minimize gastrointestinal distress [28]. The insufficient consumption of fiber and resistant starch may promote a 'loss' of microbiota diversity and function in the GI [26].
Given the interaction between the gut microbiota and gut-brain axis upon stress, and its interaction with food consumed, the aim of this systematic review is to summarize the available evidence supporting the interactions between exercise-induced stress responses and the gut microbiota, as well as its possible effects on the health and performance of the elite athletes. A secondary aim is to define dietary strategies that could modify the microbiota composition and improve both overall health, (i.e. improving the conditions of the intestinal epithelium, the immune system response or the stress response), and performance (i.e. improving energy availability from diet and controlling the inflammation levels in athletes).
Conclusions
Exercise-induced stress modifies stress and catabolic hormones, cytokines and gut microbial molecules, which might result in gastrointestinal disturbances, anxiety, depression, and underperformance. The gut microbiota has fundamental roles in many aspects of human biology, including metabolism, endocrine, neuronal and immune function. In murine models, intense exercise-induced stress exacerbated intestinal inflammation and clinical outcomes through a decrease of Turicibacter spp. and increase of Ruminococcus gnavus, Butyrivibrio spp., Oscillospira spp., and Coprococcus spp. In light of these preliminary results, changes in athletes mood and gastrointestinal function could reflect the underlying interaction between the gut microbiota and gut-brain axis during times of intense physical stress.
Appropriate nutritional choices (i.e. avoiding fat and fiber) have been recommended to reduce the risk of GI discomfort in elite athletes by ensuring rapid gastric emptying, water and nutrient absorption and adequate perfusion of the splanchnic vasculature before competitions. However, the lack of complex carbohydrates in elite athletes' diets may negatively affect the gut microbiota composition and function in the long run. The gut and the microbiota are important organs for athletic performance because they are responsible for the delivery of water, nutrients and hormones during exercise. Therefore, an increased consumption of complex plant polysaccharides should be promoted to help maintain gut microbiota diversity and function. It should also be noted that high animal protein consumption during resting days and training should be reduced because it may negatively affect the gut microbiota (e.g. production of potentially toxic byproducts such as amines and volatile sulfur compounds). Supplementing the diet with prebiotics and/or probiotics that stimulate the expansion of specific microorganisms such as Bifidobacteria and Lactobacillus and beneficial metabolites such as SCFA to improve the metabolic, immune and barrier function can be a therapy for athletes. With this in mind, the modulation of the microbiota and its fermentation capacity may provide the scientific basis for designing diets aimed at improving performance by enhancing healthy microbiota's metabolites during exercise and limiting those that produce toxic metabolites that may made worsen the consequences of stress.
Abbreviations
5-HTP:

5-hydroxytryptamine
AADC:

Amino acid decarboxylase
ACTH:

Adrenocorticotropin
ANS:

Autonomic nervous system
AVP:

Arginine vasopressin
BCAA:

Branched-chain amino acids
BNST:

Bed nucleus of the stria terminalis
CRH:

Corticotropin-releasing hormone
EC:

Enterochromaffin cells
EN:

Epinephrine
ENS:

Enteric nervous system
GABA:

Gamma aminobutyric acid
GCs:

Glucocorticoids
GF:

Germ-free
GI:

Gastrointestinal
GR:

Glucocorticoid receptor
HPA:

Hypothalamus-pituitary-adrenal axis
IDO:

Indoleamine 2,3- dioxygenase 1
IFNα:

Interferon alpha
IFNγ:

Interferon gamma
IL1β:

Interleukin 1 type β
IL2:

Interleukin 2
IL6:

Interleukin 6
LPS:

Lipopolysaccharide
MR:

Mineralocorticoid receptor
NE:

Norepinephrine
NFKβ:

Nuclear factor kappa-light-chain-enhancer of activated B cells
NPY:

Neuropeptide Y
OTS:

Overtraining syndrome
PPC:

Potato protein concentrate
PVN:

Paraventricular nucleus of the hypothalamus
ROS:

Reactive oxygen species
SAM:

Sympathetic-adrenomedullary system
SCFA:

Short chain fatty acids
SPF:

Specific pathogen free
TDO:

Tryptophan-2,3-dioxygenase
TLR4:

Toll-like receptor 4
TMAO:

Trimethylamine-N-oxide
TNFα:

Tumor necrosis factor alpha
TPH:

Tryptophan hydroxylase
VO2max :

Maximal oxygen uptake
Declarations
Acknowledgements
Not applicable.
Availability of data and materials
Not applicable.
Authors' contributions
AC wrote the main manuscript text. NM designed, coordinated, provided critical revision of the article and prepared all figures. All authors read, provided feedback and approved the final version.
Competing interests
The authors declare that they have no competing interests.
Consent for publication
Not applicable.
Ethics approval and consent to participate
Not applicable.
Open AccessThis article is distributed under the terms of the Creative Commons Attribution 4.0 International License (http://creativecommons.org/licenses/by/4.0/), which permits unrestricted use, distribution, and reproduction in any medium, provided you give appropriate credit to the original author(s) and the source, provide a link to the Creative Commons license, and indicate if changes were made. The Creative Commons Public Domain Dedication waiver (http://creativecommons.org/publicdomain/zero/1.0/) applies to the data made available in this article, unless otherwise stated.
Authors' Affiliations
(1)
Health Science Department, Open University of Catalonia (UOC), Barcelona, Spain
(2)
Animal Genetics and Integrative Biology unit (GABI), INRA, AgroParis Tech, Université Paris-Saclay, Jouy-en-Josas, France